CBRN Overboot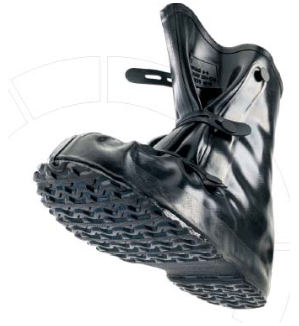 Chemical, Biological, Radiological or Nuclear (CBRN) events, whether happening as a result of an accident or deliberately, cause contamination in various forms. Emergency responders are required to wear protective equipment when dealing with there types of releases, some of which is cumbersome and heavy, that impacts directly on how well the person can perform their tasks. Manpower overstretch and fatigue at these events places a great strain on the emergency services, who continually demand lighter, more durable and increased protective equipment to work with.
CBRN Solutions UK, an experienced company in CBRN matters is able to offer the AirBoss Defence Lightweight CBRN Overboot as an immediate solution to the challenge of protecting the footwear and feet of the Emergency Responder from contamination. Made of Butyl anti static material it offers up to 24 hours protection against a whole range of CB warfare agents, Toxic Industrial Chemicals (TIC) and radiological contaminated particles. The boot is quick and easy to don and doff over existing footwear and can be decontaminated for re-use. The overboot is already in service with both military and civilian emergency responders in a number of countries.
Main features include:
Made of Butyl anti static material
Anti static sole IAW EN344 and DIN 4843
Quick and easy to don and doff
Lightweight (average 2.6lbs/1.8Kg)
7 sizes: XS,S,M,L,XL,XXL,XXXL
Download PDF
At CBRN Solutions UK we recognise the need for speed of response when a toxic release occurs, which is why we are here to fill that requirement.
Enquire now
or call +44(0)7979495108